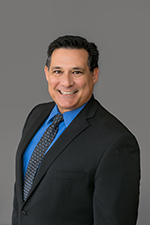 We are pleased to announce that Thom Melendez is the new President of the Long Realty Cares Foundation Board! Thom has years of experience with many of our local non-profit organizations, and has been serving on the Long Cares Board as Vice President and Central Office Representative for the past three years.
Stepping into the role of Vice President is Edye Riharb. Edye is the Long Cares Representative for the Foothills Office. She also Chaired the record-breaking Ticket to Care Raffle fundraiser last year and is working on many projects for the Foundation.
The Executive Committee is pleased to welcome Peter DeLuca, Representative for the River Campbell Office, as Secretary of the Board. His experience in the community and thoughtful input is a valuable addition to the Exec Team.
Paul Oelrich, Golder Ranch Board Representative, has a long list of philanthropic service in our community and continues his role as Board Treasurer. We are so fortunate to have Paul's continued committed leadership on the Team as well!
We are also excited to have Past President Anthony Schaefer for one more year on the Executive Team. His time as President has been incredibly successful and we are so grateful for his passionate and empathetic leadership. Thank you Anthony! (Read more here)
See all of our outstanding volunteer Board Members here.